Welcome to the IDX Home Search Help Center
HAVE QUESTIONS? WE CAN HELP!
Here you will find all our information resources to help you best use your IDX Home Search service. Still stuck? Feel free to e-mail us or call (904) 549-7600!
Include a link to your Home Search in your marketing.
Bring more traffic to your home search by linking to it from marketing materials. You'll also want to include the link in your social media posts on sites like Twitter and LinkedIn. Additionally, make it easy for current or prospective clients to access your search by adding the link to your email signature. Obtain your site link by browsing to your search page and highlight the full link in your browser's address bar. Then right-click and hit copy. You can now paste the link wherever you want to use it.
Pin a post with a link to your home search on your business page.
Bring more awareness to your IDX Home Search by pinning a promotional post to the top of your Facebook business page. Make sure the post includes a link to your IDX Home Search. To pin a post, click on the small grey ellipsis [insert image here] in the top right hand corner and select "Pin to Top of Page." If you select a post that needs a link to your Home Search, click the ellipsis [insert image here] and select "Edit Post" from the drop down menu. Now edit the text to include your Home Search link.
What is IDX Home Search?
IDX Home Search includes your own personal website for your clients to search for homes and up to 4 promotional posts monthly to direct users to your search.  Visitors to your IDX Home Search are prompted to log into our app with Facebook, and all logged-in users are recorded on your own Leads Dashboard.  Even if a user does not log in, their search history is captured for up to 2 years.  People who search properties in your MLS from your page are your leads, not someone else's. A general overview of this service can be found here.
I signed up for service and paid, but nothing changed on my Page?
Once you have signed up for the service, you will be contacted by a member of our Concierge team the business day following your purchase who will assist you with the steps involved in setting up your service.  Because each MLS has different guidelines and most MLSes require some sort of approval process prior to activation, your Concierge will assist with ensuring your approval process is smooth. Once the approval process is complete, they will also assist with setting up links to your search from your Facebook Business Pages.  If you have questions you would like for your Concierge to be prepared to answer during their initial contact, you can email [email protected] or call (904) 549-7613
I signed up for service and paid, but when I try to log into the service it acts like I haven't purchased it?
Don't worry – if you have paid, we want to get you up and running!  There are a few reasons why your subscription may not show up in your Real Estate Agent Directory (READ) account right away that we are able to resolve quickly.  Reach out to [email protected] or call (904) 549-7613 and we will make sure everything is set up properly.
Why can't you activate my subscription immediately?
Each MLS defines what is required for someone to be approved to display their data.  We must follow their approval requirements before we can turn on IDX service for an agent.
My Association/MLS isn't listed
MLSes are listed by the state in which they're headquartered, which may or may not correspond directly with the state in which you live/work – this holds especially true for larger MLSes, like Bright MLS in the mid-Atlantic area which covers 5 states.
If you don't see your MLS but you've already signed up and paid, we will contact you to help determine the correct MLS/Association for you.  If you haven't signed up yet, our sales staff is happy to answer all your questions at 904-549-7616 or via email at [email protected].
While IDX Home Search is available for the vast majority of USA-based MLSes, there are still a few MLSes with whom we are working to establish a valid data-sharing agreement.  If this is the case for your MLS, and you are willing to assist us with getting set up as an IDX vendor, please contact our IDX department at (904) 302-5663 or [email protected].
Do I have to pay additional fees to my MLS to use this service?
While most MLSes we work with do not charge additional fees to agents to use their IDX data, some do. MLSes are not required to tell us if they change their policy regarding fees to agents, so our staff may not have accurate information on your particular MLS's fees.  Your MLS will communicate with you directly regarding any fees they have during or after the approval process.
Please be advised that in most instances, MLS fees are payable directly to your MLS.  These fees are charged by your MLS, not by Home ASAP.  Please reach out to your MLS directly if you have questions about these fees.
I'm a member of more than one MLS. Can I still use this?
Good news – we do have IDX Home Search subscriptions available for agents who are members of more than 1 MLS!  Please reach out to our sales team for more information on getting set up at 904-549-7616 or [email protected].
I Signed up for service, but I'm getting a message that my IDX is not active?
Each MLS defines what is required for someone to be approved to display their data.  We must follow their approval requirements before we can turn on IDX service for an agent. We're happy to assist you in getting set up, even if some time has passed since your purchase of IDX Home Search. 
Some MLSes require new approvals if you change brokerages, and if your renewal payment for IDX Home Search fails, we must deactivate your IDX Home Search.  In most instances, your IDX Home Search will reactivate once your billing information has been updated and your payment processed.  If your search is still deactivated, we may need to restart the approval process.  Just reach out to us at [email protected] and we'll see what needs to happen to get you back up and running!
FACEBOOK INTEGRATION AND PERMISSIONS
How do buyers find and use IDX?
Your fans and followers can access your IDX Home Search from your Home ASAP URL.  This becomes your "digital business card" to include in your marketing materials, as the site easily links between your Agent Profile, Home Search, Featured Listings, and any other Home ASAP services you have.  If your Facebook Business Page has at least 2000 likes, we can add a custom Tab that is visible in some versions of the Facebook app.  You can also program your "Call to Action" button to send visitors from your Facebook Business page to this URL. This button is visible in all versions of the Facebook app, Facebook instructions to update your Call to Action button can be found here.
You will need to do some marketing for people to find your search, and for them to remember to search from your site – we've included some tips in our Best Practices document.  We also have personalized service available to assist with your marketing in our TurnKey Suite packages.  To learn more about how those options can help you, call 904-549-7616 or email [email protected]
To find your Home ASAP URL, log in to Facebook, then click here. Your Home ASAP URL is found in the section "Customize your URL" highlighted below, and will look like "www.homeasap.com/myhomesite" – the part after "homeasap.com/" is what you are able to customize.  If you make a change to this URL, be sure to update all of your marketing materials, Call to Action button, and posts to the new URL!!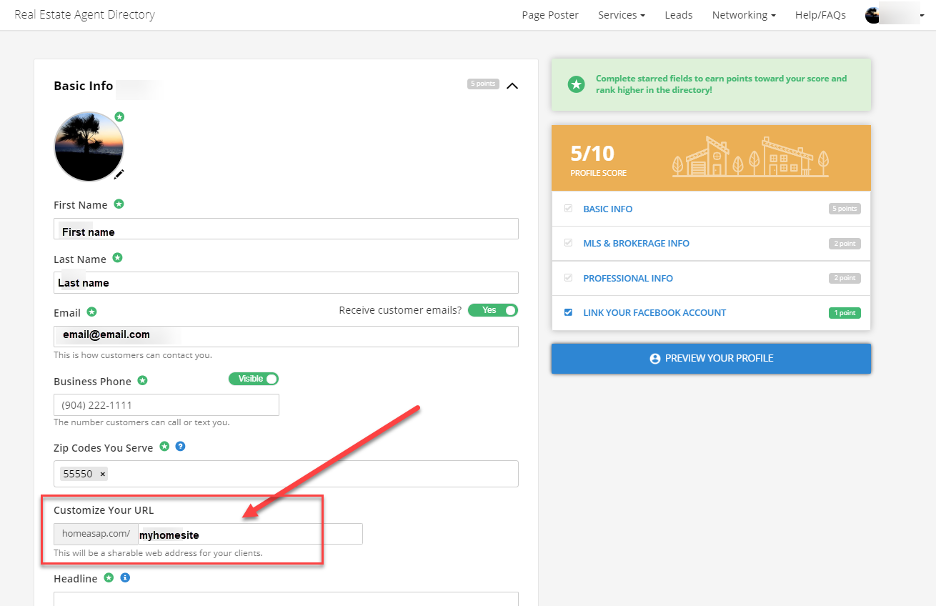 Once on the search site, buyers can enter a broad variety of search criteria, including address, zip code, neighborhood, or even just enter the MLS number of a property of interest. Each listing has a lot of great information.  If they log in while doing their search, they will receive emails when new properties matching their search come on the market, or when properties matching their search are updated.
How do I get leads from IDX Home Search?
Lead capture prompts and calls to action are located throughout your IDX Home Search.  After each 4th property clicked, users will be prompted to "Save their Progress" or "Get Real Time Updates", which then asks them to log in with Facebook or email.  When they do so, they gain access to advanced features, like notifications of new listings that meet their criteria, list building, being able to save properties and searches, and more! 
And – this is how you get your leads!  It's typically the more serious buyers who opt to go ahead and log in with Facebook or via email, so don't be discouraged if you have a lot of "unidentified" visitors at first.  These unidentified visitors are stored in your Leads Dashboard, and we will track each visitor up to two years, or until they log in with Facebook, at which time, the updated visitor with all the info we're able to provide will appear in your Leads Dashboard.
Also, whether or not they opt to log in with Facebook, visitors can reach out to you via email or telephone, or even request a showing from your IDX Home Search. 
Does this work on mobile?
Yes!  While we do strongly encourage you to complete some setup steps from a laptop/desktop computer, all Home ASAP services, including IDX Home Search, are accessible on mobile devices as well as desktop/laptop devices via your Home ASAP URL. 
If you have a tab to quickly launch the site from your Facebook Business Page (Facebook currently requires that a page have at least 2,000 likes to add tabs), it is only visible on the desktop/laptop version of Facebook.  Your Call to Action Button can be programmed to launch the service from any version of Facebook, including mobile. Facebook instructions to update your Call to Action button can be found here.
We currently have an Agent App for iPhone users in the app store.  No worries, Android users – you will still have access to all READ app features as our app and links work on all devices.  We do plan to release an Agent App for Android users soon – but you're not missing out in the meantime! Also, the Consumer does not need a special app to do their search, just your URL, so they aren't missing out either!
How do I access my leads?
You can access your leads via your Leads Dashboard within the READ app (https://go.homeasap.com/leads).  Additionally, you'll receive email notification of all logged-in visitors to your IDX Home Search.
Here are the basic features of your Leads Dashboard referenced in the information below.

To access your Leads Dashboard, make sure you're logged into Facebook (this is how our app identifies your account) and click here:  http://go.homeasap.com/leads
Alternatively, you can click any of the "Agent Login" links on your HomeASAP URL to log into the app – just look for "Leads" at the top of the page once you're logged in.  The Agent Login link is typically small and in the corner of the page.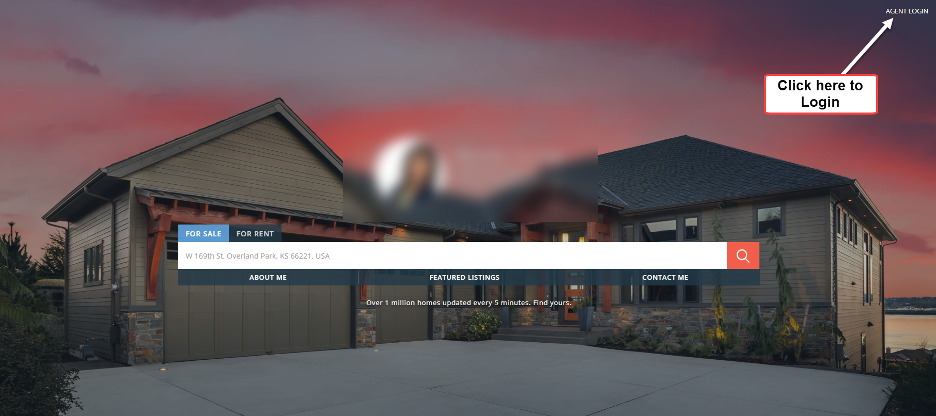 It is a good idea to bookmark the Leads Dashboard in your browser, so you can easily return to it when you want to check your leads
If you'd like to incorporate your Home ASAP leads into your CRM, click the button to the left of "Recent Activity" – this will send a .csv file of your leads to the email address associated with your Agent Profile.
Why can I only see contact information for some visitors to my IDX Home Search?
When a consumer has identified themselves by signing in with Facebook or email, we share that information with you on the main page of your Leads Dashboard. If the consumer has not logged in to identify themselves, but still performs a search using your IDX, we will assign the visitor a unique record in the "Lead Tracker" portion of your Leads Dashboard.
Identified or not, visitor search history is updated on each return to your site. If the visitor logs in at a later date, you will be notified that the Lead Tracker has been updated.  We store and update unidentified leads up to two years, as many visitors will choose to log in to access advanced features once they get closer to making a purchase.  Once we are able to obtain contact information from a previously unidentified visitor, you will be notified by email.
If a lot of your leads are "unidentified", don't be discouraged.  They are probably still just "shopping around".  Keep marketing your search site, and when they get serious about their house hunt, they should be ready to log in and save their searches (and then become an identified lead).
If you'd like more information on how we can help you generate and convert more leads, please reach out to our marketing pros at 904-549-7616 or [email protected].
Why am I getting emails with listings that aren't mine?
These are our "listing update" emails.  They're sent out to anyone who uses your search and include info on properties within the last geographic area searched – they aren't meant to advertise any one agent's listings, simply to encourage visitors to your search to return and search again. This helps keep you top of mind and increase your lead to client conversion rate over time.
I tested my search, but my information isn't showing up on my Leads Dashboard
You will not be able to "test" the service by using your own IDX Home Search.  Our system recognizes you as an "agent" (because you are a member of the Real Estate Agent Directory), and will not provide your information back to you as a lead. 
If you want to test the system, have a friend or family member who is not in real estate enter their information.
I did a search in my area, but the website switched to another agent
IDX Home Search will show you as the branded agent for all properties listed with the MLS with which you've been approved to display IDX Home Search data when someone starts their search from your site.  If a buyer clicks on a home listed through a different MLS, we must switch to an agent approved with that MLS to maintain MLS compliance.  However, if the buyer clicks on another property with your MLS, your information will be displayed again.  This happens commonly in areas with a lot of "overlap" between MLSes.
MLS information is listed at the very bottom of the listing details for each property if you would like to confirm that this is what's happening.  If you don't feel this is the case, please email customer support at [email protected], and be sure to include the addresses and/or MLS numbers of 2-3 listings where you feel your information should be displayed and we will be happy to look into it further.
Please bear in mind that we cannot display you as the branded agent for a listing until you have the approval process for your MLS.
If you're a member of more than one MLS, you may be interested in subscribing to IDX Home Search for multiple MLSes.  Reach out to our sales team at 904-549-7616 or [email protected] for more information.
Why does IDX Home Search switch agents instead of only showing listings through my MLS?
While we understand that the concept of exclusivity is important, it's also important that we display ALL listings in your area – not just those listed through your MLS.  In many areas, two or more local MLSes list properties that can all be on the same street, or even right next door to each other.  Imagine you're house hunting and you see 4 properties for sale on the same block – but you go to your agent's IDX Home Search and only two of those listings are visible because the other two are listed through other MLSes – your client is going to think your search is incorrect and/or incomplete and will not return.
My MLS (or State) Requires certain information on each post. How will you ensure I'm compliant?
Some MLS's or states require that agents display specific information on their posts (License #, brokerage information, etc.).  We have added a method for you to personalize this.  Log into your personal Facebook account and click here to add whatever text you need.
The information I received said one price, but I was charged a different price?
Sometimes the coupon or promotional codes do not apply properly at checkout.  Please reach out to us at [email protected] or call (904) 549-7586 and we can assist with verifying your charges and ensuring your discount is applied.
Also – our "service confirmation" emails tend to reflect the recurring annual rate, not your promotional rate for your first year, so double-check your financial statement as well.
How do I update my billing information?
You can update your billing information within your Agent Profile.  Make sure you're logged into your personal Facebook profile then click here.
How do I cancel service?
To cancel service, please contact us at [email protected] or 904-549-7600 Option 1 (M-F 9am-5pm EST).  We will request your reason for canceling, as we continuously seek to improve our products to best meet the needs of our customers.  Your feedback is not necessary or required for cancellation, but we do value your opinion about our services.
We do our best to respond to cancel requests in a timely manner, but note it can take up to 5-7 business days to receive a response to your request – keep an eye on your email!
You can remain a member of the Real Estate Agent Directory at no charge.
Cancellation requests received within 30 days of purchase are subject to a $50 processing and administrative fee for MLS setup and ongoing compliance requirements, regardless of whether activation was completed.
If you request to cancel after 30 days from the date of purchase, Home ASAP will schedule the service to cancel at period end, but we may offer alternatives including but not limited to transferring the remainder of the payment (less the setup fee if applicable) towards the purchase of another service.  Our terms of use can be found here.

4887 Belfort Road #400
Jacksonville, FL 32256