Welcome to the Lead Magnet Tool Help Center
HAVE QUESTIONS? WE CAN HELP!
Here you will find all our information resources to help you best use your Lead Magnet Tool service. Still stuck? Feel free to e-mail us or call (904) 549-7600!
Post at least three days per week.
Thursdays, Fridays, and Saturdays are the optimal days to get the most engagement.
Be sure to reach out to your leads
Make sure you keep up with your incoming leads and respond to fan comments on your posts. Build and nurture relationships by creating conversations about the information they're interested in.
Share links to your landing pages through your other marketing channels
ACover all your bases by sharing links to the content landing pages on other social platforms or with past, current, and future clients.
How do I edit the text for Lead Magnet Tool posts on my Timeline?
How can I manage where Lead Magnet Tool is posting?
Go to your Account Overview page by clicking
here.
Click on Lead Magnet Tool and click on "Manage".
Choose the Facebook business page from the dropdown. You can choose personal, business, or both.
Then click "Post Now".
Can I view the content before I post?
The content is posted to your page when you click "Post Now". To see it before you post click "View Page". There you'll see the lead capture landing page that will be linked to your post.
Why is Lead Magnet Tool not posting to my page?
If you just signed up for Lead Magnet Tool:
You'll see your first post on your page 24 hours after you sign up.
I've recently updated my Facebook password (Update Permissions):
If you recently changed your Facebook password or have logged in from a new location, this may have reset the app permissions. Click here to update your permissions.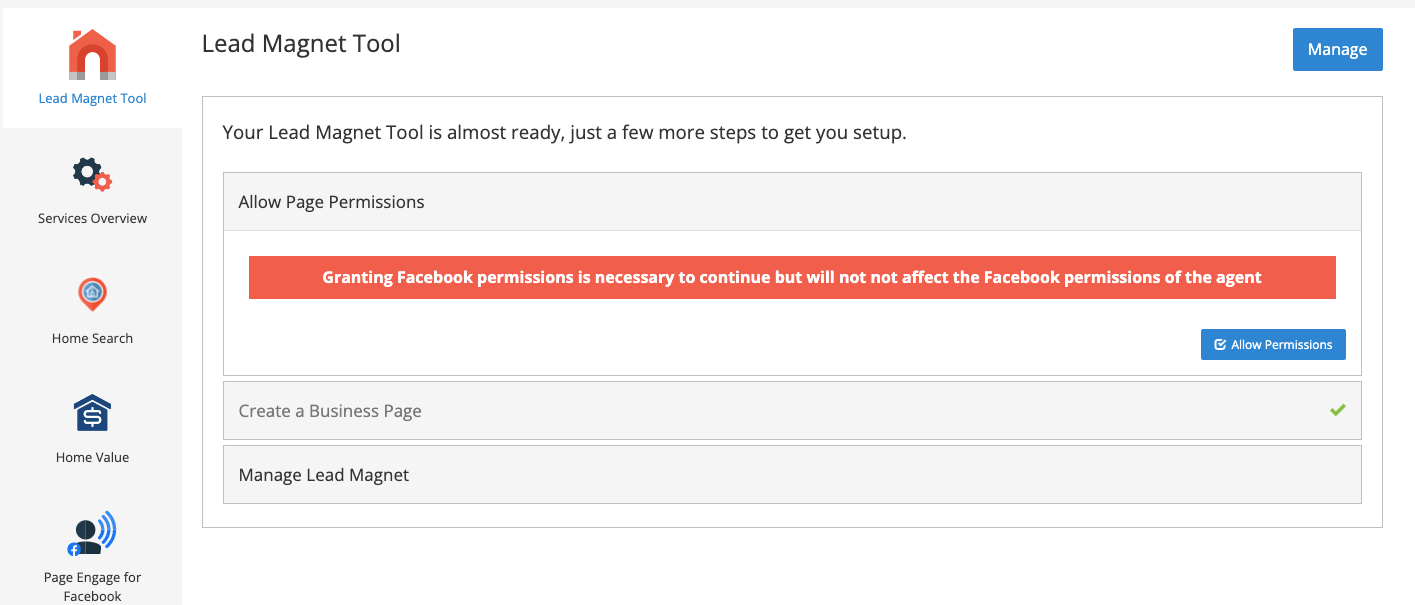 Who selects the content and where do you find it?
Our marketing experts create content based on trends and suggestions from agents who use the Real Estate Agent Directory. A majority of our content is not specific to your location, brokerage, or area of expertise. This makes it a great fit for just about any agent!
When is the time of day to post on my page?
Try to post your Lead Magnet posts on Thursdays, Fridays, and Saturdays each