Welcome to the Page Engage for Instagram Help Center
HAVE QUESTIONS? WE CAN HELP!
Here you will find all our information resources to help you best use your Page Engage for Instagram service. Still stuck? Feel free to e-mail us or call (904) 800-1811!
Overview
Thanks for purchasing Page Engage for Instagram! Before we can start posting to your Instagram account, we'll need to do some setup steps in the Facebook and Instagram apps. We'll also need to complete some setup in the Real Estate Agent Directory.
Here's a brief overview of the process. You can find detailed information about each step in the appropriate tab.
First, we'll make sure you have all the required accounts.
Next, we'll link your Instagram account to your Facebook business page.
Then, you'll grant us permission to post to your account.
Last, we'll set up a posting schedule and content filters.
For most agents, this process only takes a few minutes. Let's get started!
Link Facebook Page
First, we'll need to link your Instagram account to a Facebook page. We won't make any posts or changes to your Facebook page unless you have purchased other Home ASAP services. Instagram's parent company, Meta, requires us to do this step in order to post to your Instagram profile.
Here's how to link your Instagram to your Facebook Page.
Sign in to your Facebook account.
Click or tap the Menu icon.
Now click or tap Pages.
Next, select the Page you'd like to link to your Instagram account. If you don't a have Facebook business page, you can learn more about that here.
Go to your Page settings. On mobile, this will be a gear at the top of the Page. On desktop, this will be in the menu on the left side of the page.
Click or tap Instagram from the options displayed.
After this, click or tap Connect Account and follow the onscreen prompts.
Note: If you try to connect a personal Instagram Account, it will be automatically switched to professional Instagram account during this process. This is required to enable automatic posts. >> Learn more.
Grant Permissions
The remaining steps will all take place in your Real Estate Agent Directory dashboard.
Now that you've properly configured your Instagram Business profile (see previous step), you will need to grant Home ASAP permission to make posts to that profile. Simply click the "Grant Permissions" button and a pop-up window will open asking you sign in to Facebook and Instagram. Then you'll be asked to grant permissions.
Tip: If you do not see the pop-up after clicking the button, double check that your browser has not blocked the pop-up window. Many browsers automatically block pop-ups by default. You can find more info about how to allow pop-ups for specific sites in Chrome at this link.
Requirements
First of all, let's make sure that you have all of the required accounts to complete Page Engage setup.
What You'll Need
An Instagram Business account
A Facebook Business Page
Smartphone with Instagram and Facebook apps (strongly recommended
Desktop/Laptop computer (recommended for viewing instructions during setup and choosing Page Engage option
If you do not have an Instagram account, you can create one by installing the Instagram app on your smart phone and following the onscreen instructions. Be sure to choose a Business account during setup. >> More Info Here
If you do not have a Facebook business page, our Page Create design can create a custom designed Page for you for just $39.98. >> More Info Here
Choose Settings
After granting permissions in Facebook and Instagram, navigate back the Page Engage for Instagram setup page in your Real Estate Agent Directory dashboard. Now we're ready to choose our settings for posting to your profile.
First, choose the Instagram profile where you would like to set up automatic posts. The drop down list will include any Instagram pages you have connected to your Facebook account.

If no pages appear in the drop down then you may not have connected the correct accounts. Return to your Facebook page settings to verify that you have connected your Facebook business page to the correct Instagram profile. Also, verify that you have granted permissions to the Real Estate Agent Directory using the same Facebook account used to administer your business page

Next, select which days of the week you would like Page Engage to post to your Instagram profile.
After that, you'll choose the type of content to be posted to your Instagram profile. All categories are checked by default. Uncheck any categories you do not want on your profile
Finally, click the "Save Schedule" button to save your changes.
Once you have completed these steps, you should typically see your first post within the next 7 days depending on the schedule you have set. You can check that Page Engage has been set up correctly by clicking the "Post Now" button. Now you're ready to sit back and let Page Engage handle posting to Instagram for you!
Schedule your posts for at least three days per week.
Thursdays, Fridays, and Saturdays are the optimal days to get most engagement.
Be sure to check your posts periodically for activity.
Make sure you keep up with you page activity and respond to fan comments on your posts. Build and nurture relationships by creating conversations.
Supplement your page with local content.
Adding posts about local events, attractions and activities in your area help make your page a destination and resource for local knowledge.
How do I adjust my Page Engage posting schedule?
Go to your Account Overview page by clicking
here
, then follow the instructions below.
Click the "Manage" button.
Choose the days you would like Page Engage to post to your page(s).
Click "Save Schedule"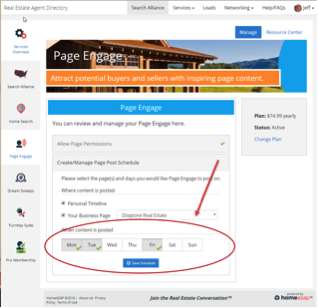 How can I manage where Page Engage is posting?
Go to your Account Overview page by clicking
here.
Click on Page Engage Overview and click on "Manage".
Select or deselect the boxes according to which pages to which you would like Page Engage to post. You can choose personal, business, or both.
Click "Save Schedule".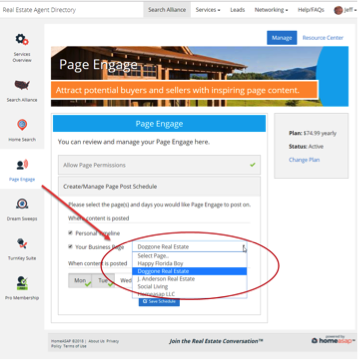 Why is Page Engage not posting to my profile?
If you just signed up for Page Engage:
You'll see your first post on your page 24 hours after you sign up.
If you were receiving Page Engage posts, and they stopped posting:
If you recently changed your Facebook password or have logged in from a new location, this may have reset the app permissions. Click here to update your permissions.
Does Page Engage post local content?
Content is not location specific; instead we use highly engaging images and articles from around the web to get you more likes, shares, comments and increase your viral reach.
Does Page Engage for Instagram post my featured listings?
Not at this time. However, Page Engage for Facebook does have this functionality.
Who selects the content and where do you find it?
Our social media experts handpick content based on the engagement it will generate on your Instagram and its ability to portray your brand as a real estate agent in a positive light. Each image is then cropped to look great in a user's feed and tagged with the relevant categories. That allows you to choose content that is appropriate for your needs. Since a majority of our content is not specific to your specific location, brokerage, or area of expertise, each makes a great fit for just about any agent!
How can I change the time of day my posts appear on my page?
Our system is optimized to post your content at set times each day and cannot be altered for individual pages.

4887 Belfort Road #400
Jacksonville, FL 32256