Welcome to the Page Engage for Instagram Help Center
HAVE QUESTIONS? WE CAN HELP!
Here you will find all our information resources to help you best use your Page Engage for Instagram service. Still stuck? Feel free to e-mail us or call (904) 549-7600!
Schedule your posts for at least three days per week.
Thursdays, Fridays, and Saturdays are the optimal days to get most engagement.
Be sure to check your posts periodically for activity.
Make sure you keep up with you page activity and respond to fan comments on your posts. Build and nurture relationships by creating conversations.
Supplement your page with local content.
Adding posts about local events, attractions and activities in your area help make your page a destination and resource for local knowledge.
How do I adjust my Page Engage posting schedule?
Go to your Account Overview page by clicking
here
, then follow the instructions below.
Click the "Manage" button.
Choose the days you would like Page Engage to post to your page(s).
Click "Save Schedule"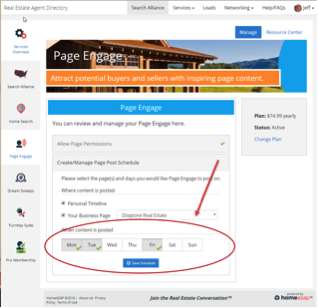 How can I manage where Page Engage is posting?
Go to your Account Overview page by clicking
here.
Click on Page Engage Overview and click on "Manage".
Select or deselect the boxes according to which pages to which you would like Page Engage to post. You can choose personal, business, or both.
Click "Save Schedule".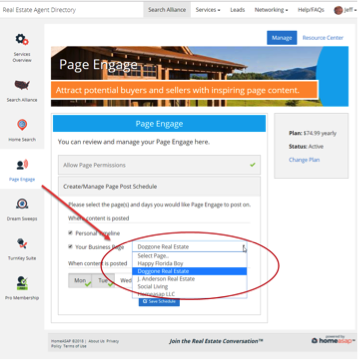 Why is Page Engage not posting to my profile?
If you just signed up for Page Engage:
You'll see your first post on your page 24 hours after you sign up.
If you were receiving Page Engage posts, and they stopped posting:
If you recently changed your Facebook password or have logged in from a new location, this may have reset the app permissions. Click here to update your permissions.
Does Page Engage post local content?
Content is not location specific; instead we use highly engaging images and articles from around the web to get you more likes, shares, comments and increase your viral reach.
Does Page Engage for Instagram post my featured listings?
Not at this time. However, Page Engage for Facebook does have this functionality.
Who selects the content and where do you find it?
Our social media experts handpick content based on the engagement it will generate on your Instagram and its ability to portray your brand as a real estate agent in a positive light. Each image is then cropped to look great in a user's feed and tagged with the relevant categories. That allows you to choose content that is appropriate for your needs. Since a majority of our content is not specific to your specific location, brokerage, or area of expertise, each makes a great fit for just about any agent!
How can I change the time of day my posts appear on my page?
Our system is optimized to post your content at set times each day and cannot be altered for individual pages.

4887 Belfort Road #400
Jacksonville, FL 32256